You are preparing your application to the Fisher College of Business. You completed the online application, wrote, rewrote and finalized your essays, secured your letters of recommendation, updated your resume and requested your transcripts to be sent. The last item on the checklist is every applicant's favorite four-letter word ... the test. You took the GMAT or GRE, thinking you were going to ace it after all of those hours of intense preparation. You finished the exam, agreed to view your scores and ... oh, MAN, you have got to be kidding me?! THAT is my score?
Sound familiar?
If this sounds like you and you are planning to apply by the deadline, you have a couple of choices:
Submit your application and:
1) Let your scores "stand." Wait to hear from the Admissions Committee regarding next steps in the admissions process - maybe your score isn't as high as you had hoped, but maybe it isn't that bad after all.
2) Contact the application processing office to let it know you plan to retake the test on a future date and to withold an admission decision on your application until we receive your new test scores. If you plan to do this, contact the office as soon as possible - do not wait as your application may go into the review process if you wait too long.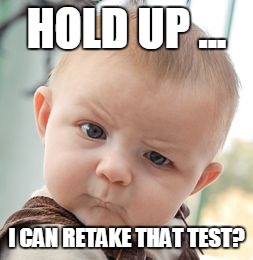 A few points to remember:
The Admissions Committee will review all of the application materials carefully. Your test scores are important, but they are just one part of the application.
Admissions tests are designed to help business schools determine your potential to succeed academically in the classroom. It is possible that you have enough other evidence in your application of strong academic potential and your test scores may be relatively less important.
Be self aware - whether you are looking at FT MBA, WP MBA, MAcc, MHRM or SMF, look at the class profiles. Are your qualifications consistent with those of other students in our program? Manage your expectations.
If you are interested in being considered for merit-based financial aid, the two quantitative measures primarily used to evaluate candidates are the undergraduate GPA and the GMAT/GRE. Most of you are unable to impact your undergraduate GPA at this point. If you feel that your GMAT/GRE score is sufficient for admission, but you believe you have the potential to do better, it may be worthwhile to retake for the possibility of funding.
If someone gets a better score by retaking the GMAT, for example, the average increase on a GMAT retake is 30 points. Most people actually perform the same or do worse. We only recommend that you retake the test if the circumstances around the test day were not ideal or if you have some reason to believe that you did not perform to your maximum potential.
If you do plan to retake, give yourself plenty of time. We recommend about 6-8 weeks of preparation - don't rush into it before you are ready.
Good luck!!